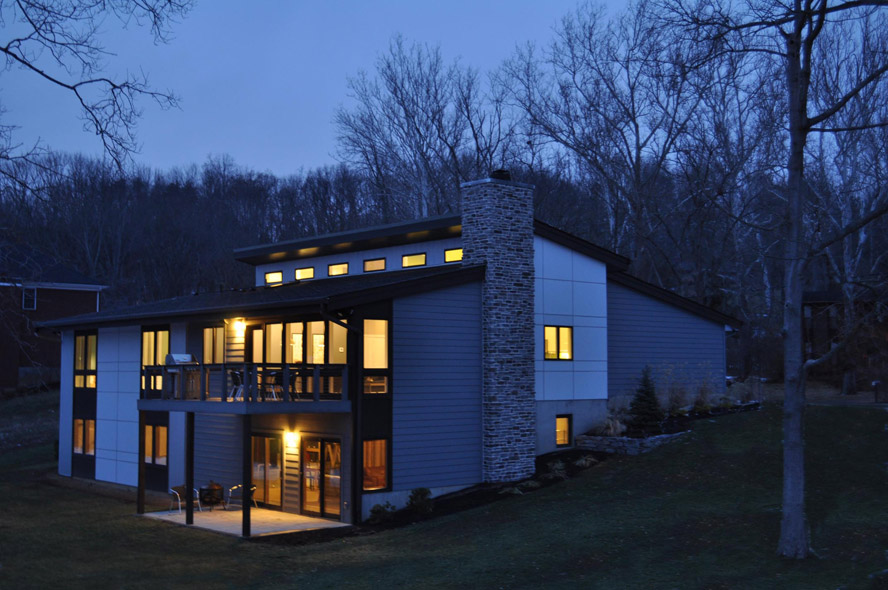 8885 Cross St. | Cincinnati | 45242
Architecture: SKL Architecture
Built 2009; 3 bedroom, 2 bath, 1,950 square feet
The Labbe House Project is a single-family residence located in Symmes Township, a neighborhood of Cincinnati, Ohio. It is designed by Stephanie K. Labbe, a registered architect and the owner of SKL Architecture, LLC. The house is the residence of Stephanie, her husband, Cliff, and their two young children.
The home features many elements which provide a high level of energy efficiency. Such elements include passive solar design (with proper solar orientation and thermal mass), geo-thermal heating and cooling, dual-flush toilets, low-flow plumbing fixtures, Energy Star light fixtures and appliances, as well as environmentally friendly and low-maintenance materials. Also, the home utilizes advanced framing (2×6 studs @ 24″ o.c) which allows for an increased amount of insulation. The Labbe House Project is LEED for Homes Certified at the Silver Level, as well as 5+ Energy Star rated. The site is located on a previously developed, infill lot, within close proximity to several various public businesses and recreation facilities.
Currently, the plan is a 1,950 square foot ranch, with 3 bedrooms, 2 full baths, kitchen, living room, dining room, and an unfinished lower level. The first floor is handicap accessible. In the future, the lower level will be finished to provide 2-3 additional bedrooms, a full bath, a family room, and additional storage. Future plans also include the addition of PV solar panels, which will provide electricity for the home.